SC LC FC APC 0.9mm 2.0mm 3.0mm Simplex Singlemode Fiber Optic Connector

Product Description
Fiber Optic Connectors are an important component in a fiber optic network; they are used on
a fiber optic patch cord or pigtail with an adaptor to make connections. In order to achieve
accurate and precise connections of the fiber ends, very high quality ceramic components are
used. Fiber optic connectors made with precision and high quality ceramic components provide
a high reliability connection when used with the various adapters. We make sure that every
connector that leaves our production is tested and performs as per the international standards.
Standards Compliance
.
UL-V0 ammability rating
.

TIA/EIA-568-C.3 (Optical Fib
er
Cabling Components Standard)
.

ANSI/TIA/EIA-455B (Standard Test Procedure for Standard Fib
er
Optic Fib
er
s,
Cables,
Connecting & Terminating Devices, and Other Components)
.

IPC-8497-1 (Cleaning Methods & Contamination Assessment for Optical Assembly)
Features
.

High quality ceramic components and Material
.

End-face geometry requirement complies to Telcordia GR-326-CORE
.

100% tested on optical performance (Insertion Loss
& Return Loss)
.

Simplex, duplex and higher core densities
.

900 micron, 2mm, 3mm cable applications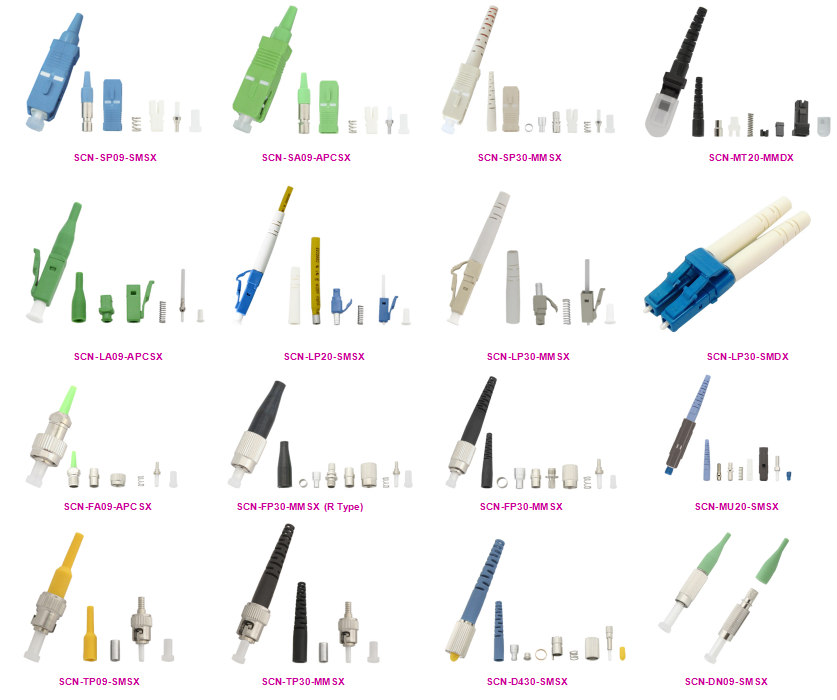 Design & Materials
Connector Ferrule

Ceramic

Alignment Sleeve

Ceramic

Connector

Body

UL 94V-0 rated Thermoplastic
to meet standard ammability ratings

Crimp Insert/Crimp Tube

Nickel-Plated Brass/Thermoplastic
Elastomer Polymer

Dust Cap

Nylon or PVC

Strain Relief Boot

Flame retardant (UL-Rated 94-V0) polymer

Connector Style

SC, FC, ST, LC, MTRJ,

Polish

PC, UPC, APC

Capillary Diameter Tolerance

126

± 0.5μm(Single Mode)

,

127 ± 0.5μm

(Multimode)

Ferrule Diameter

2.5 ± 0.001mm(FC,SC,ST),
1.25

± 0.001mm (LC)
Environmental & Mechanical Data
Operating Temperature

-40 to +85º C

Storage Temperature

-40 to +85º C

Temperature Cycling (61300-2-18)

-40 to +75º C,

40 cycles=0.2dB change

High Temperature (61300-2-18)

70c for 96Hrs, <0.4dB change

Damp Heat(61300-2-19)

40º C at 93%RH for 96 Hrs, <0.4dB change

Vibration-Mated Pair (61300-2-1)

10-55Hz,

1.5mm P to P <0.2dB change

Mating Durability (61300-2-2)

500 Mating Cycles, clean every 25, <0.2dB change
Optical Performance Data
Item

Single

mode

Multimode

PC

UPC

APC

62.5/125

50/125

50/125 10G

Insert Loss/connector




(single Fib

er)

0.3

dB Max. (0.

2dB typ.)

0.3

dB Max. (0.

2dB typ.)

Return Loss

≥45 dB

≥50 dB

≥60 dB

PC≥

3

5dB

Insert Loss/MTRJ Connector

0.5dB Max. (0.45dB typ.)

0.5dB Max. (0.45dB typ.)

Pull Strength

≥98N

≥98N
Connector Type Code
| | | | | | |
| --- | --- | --- | --- | --- | --- |
| FP | FC/PC, FC/UPC | FA | FC/APC | MU | MU |
| SP | SC/PC, SC/UPC | SA | SC/APC | MT | MTRJ |
| TP | ST/PC, ST/UPC | TA | ST/APC | DN | DIN |
| LP | LC/PC, LC/UPC | LA | LC/APC | E2 | E2000 |